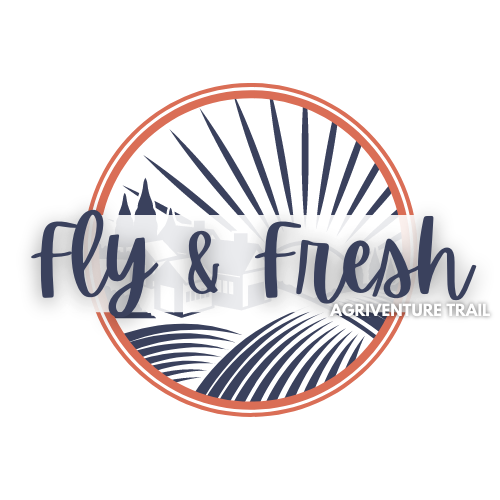 Looking for a way to connect with the outdoors? Want to eat the freshest foods, produce, and to support local businesses? Interested in learning about farms, local wildlife and the environment? Welcome to the Fly & Fresh Agriventure Trail.

Totally Fly Goldsboro wants you to discover a new kind of trail that connects you to eating fresh, supporting local, and getting outdoors. Representing a diverse community, the Fly & Fresh Agriventure Trail wants you to connect to the stories of our local producers, makers, and business owners, to the food you're eating, and to the environment and wildlife in Wayne County, NC.
Check out the map below to get exploring on the Fly & Fresh Agriventure Trail.
WHAT ARE THOSE ICONS ON THE MAP?
Each location on the map pertains to a category that represents it's unique place on the trail. Check out the categories below to learn more!
Agritourism locations will represent different farms throughout Wayne County that allows tours, have seasonal events and offer u-pick produce. Learn where your food comes from, and get a behind-the-scenes look as to how a real farm operates.
Support Diversity is all about celebrating the diversity in our community! Wayne County is home to so much diversity and we want every visitor to have the chance to connect to our local producers, business owners, artisans, businesses, and eateries.
Field to Table Dining represents some of the delicious eateries throughout Wayne County that utilize local and fresh produce, meats and more. Ranging from international cuisine and southern cooking to baked goods, you'll be eating fresh!
Outdoor Markets are all over Wayne County from roadside stands to our local Farmer's Market! All of our outdoor markets are family-owned businesses or markets run by local farms. These community staples provide access to fresh items all year round.
Artisanal & Fresh Shops are abundant and allow local artisans, craftspeople, farms and more to sell their fresh products throughout the year. Find jams, local honey, BBQ sauces, seasonings, meats, produce, and unique gifts for friends and family.
Trails & Parks represent all of the outdoor locations where you take a hike, camp, take your furry friend or the kids for a breath of fresh air! Don't miss out on the incredible views at the Cliffs of the Neuse or the walkable greenways at Stoney Creek Park.
Wildlife & Environment spots will give you an inside look on our Eastern, NC landscapes, the Neuse River our environmental history and the wildlife in the area. Don't miss the opportunity to do some bird watching – don't forget binoculars!
Outdoor Fun will have you driving, paintballing, kayaking, putting, walking and so much more! Discover historical trails and kayaking down the Neuse River. Get your adrenaline pumping with ATVs or tee of at Goldsboro's Municipal Golf Course.
Seasonal Events are happening constantly around Wayne County from fairs to festivals, you can't go wrong! Discover your inner #picklepride at NC Pickle Festival, or check out tractors, chickens and ride galore at the Wayne County Regional Agricultural Fair. Schedule your Fly & Fresh adventure and catch one of these great events.
Need help? Don't worry, we have you covered! Pass by any of these listed locations to ask questions, pick up a visitors guide or learn about more things to do in the area. If you pass the Visit Goldsboro, NC office you can even pick yourself up some Totally Fly or I Heart Jet Noise swag for friends and family or to remind you of Goldsboro-Wayne County.